I hope you all had a great 4th of July!
It was a super laid-back holiday here at the Mills' household ;)
Andrew went to work,
and while daddy works baby and mommy will play!
Hahahaha well, Rory went to her GG and Papa's house so I
could go with my parents and brothers and sister-in-law to As You Wish!!
She LOVES her GG/Papa's house ;)
For those that don't know,
As You Wish
is a place where you paint pottery and they kiln it for you ;)
I hadn't been since I was 15,
so this was super exciting for me to do!
My sister-in-law had never been there so it was really fun for all of us to get
our creative juices flowing!
(and for my dad and brother to validate how great their
drawing skills are!)
I picked a cookie jar,
and as I'm looking at it, my mind seriously went blank.....
I'm not the best at coming up with things,
I'm a GREAT copier though!
Anyways,
so as I'm sitting there staring at it,
I had a vision!
At least for the lid I was gonna do a Mickey face
and the little knob on top was going to be his nose!
"BRILLIANT!!!" I thought to myself,
then I realized I can't draw to save my life haha
so my amazing daddy came to my rescue and it turned out like this:
Oh BAM!! ;)
I know it's not perfect, but it LOOKS like Mickey,
I'm happy ;)
But then I had a HUGE jar to try and fill :(
So what does my dad say?
"Do a Disneyland theme!"
After I thought about it I begged him to draw the castle for me ;)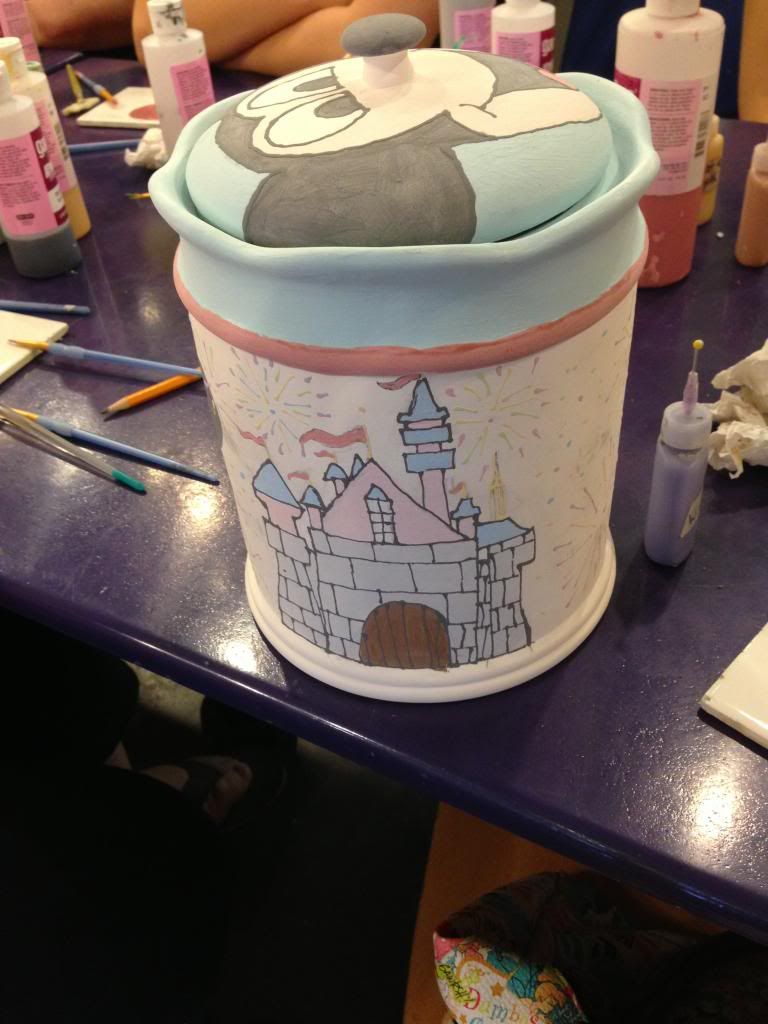 Isn't he amazing?!
(for the record, I did the painting part, he actually drew the thing!)
And since my dad actually wanted to paint his own thing
(silly guy, sheesh! He'd also been drawing for my mom)
Nick offered to draw the Disney letter for me ;)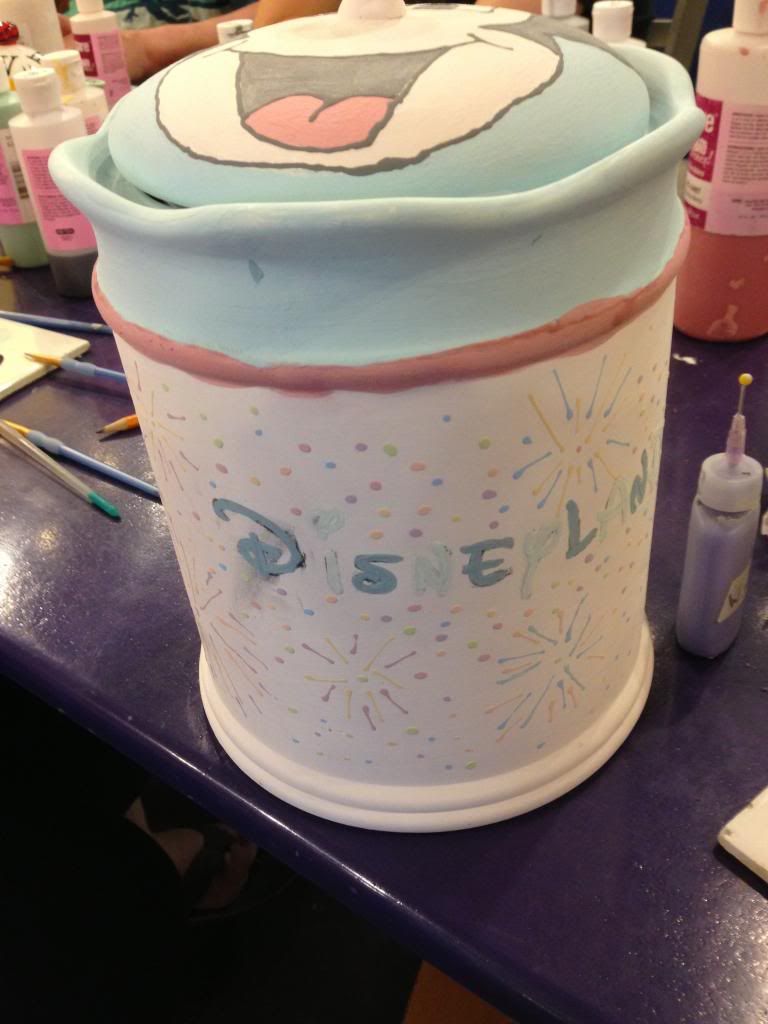 I know it's hard to see now,
I used a dark teal and mint colors for the letters,
but it's going to be GORGEOUS!
And I did all the fireworks ;)
AND I did this basic Mickey head in the empty space!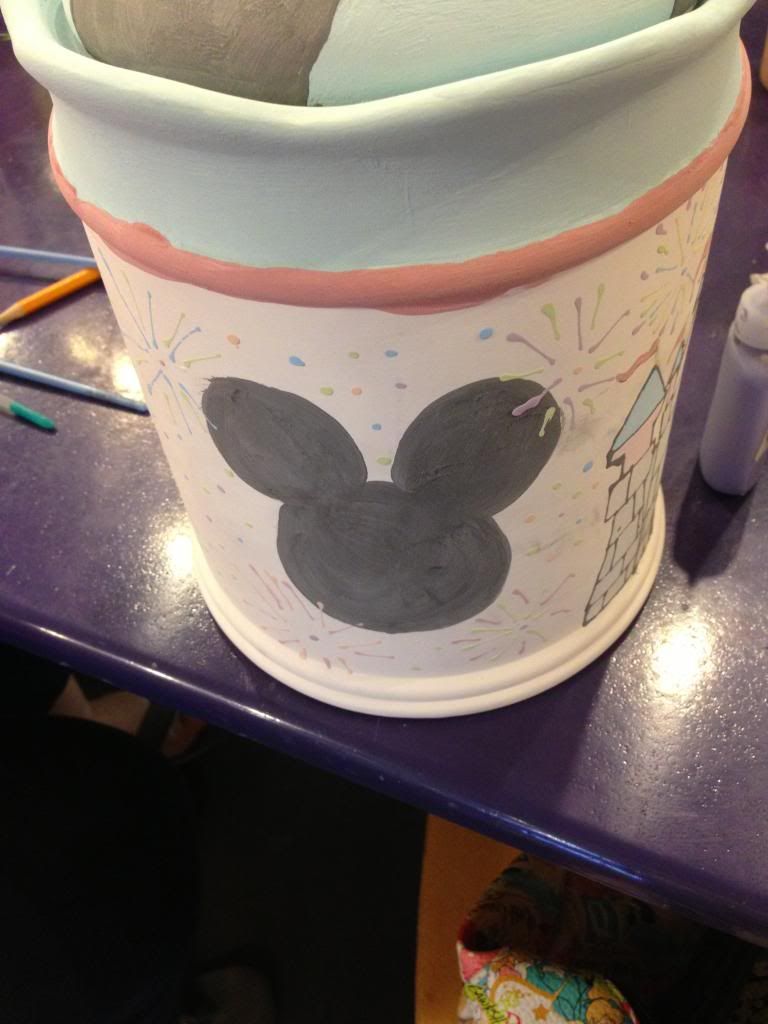 I'm SOOO happy with it!
And we get to pick it up on Monday!!
SOOO excited to add this to my kitchen!
Also, way back when,
and it was so much fun!!
My craft turned out not even as good as I had hoped
(or should have been if I had just figured myself out)
but I had tons of fun chatting with my bloggy/real life friends,
and just feeling more like ALI vs Mommy ;)
LOVED IT!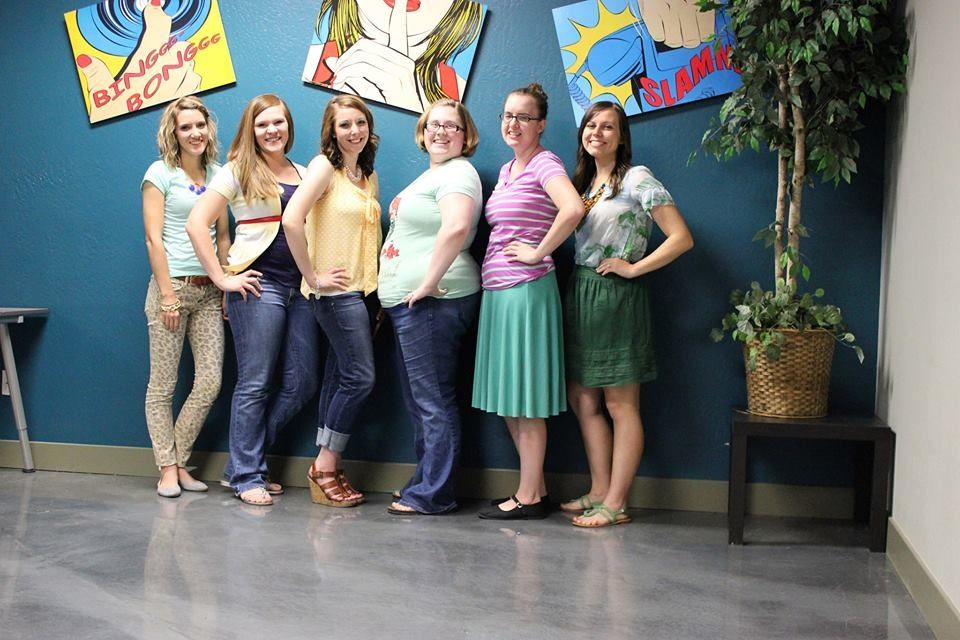 We were the cool ones that were last out of the building
(a.k.a. the ones that took the longest and chatted the most hahaha)
Chrissy did such a good job with everything that night
and I think we all had a ton of fun!
Oh you wanted to see the craft??
UM......ok.....
Gah.......Whenever I get the time
(and a place where I can hammer without waking a child)
I'm making a new one that doesn't look so yuck.....