Ok today is a slightly more personal post.
(with some fun at the end don't worry)
So Andrew and I had noticed that we weren't as close as we used to be.
Ya know, just kinda going through the motions,
stuck in a rut, we still love each other but we weren't showing it like we used to.
BOTH of us at fault, although of course at first
I was like "why can't he do this, this this?" or
"Why doesn't he just know this and this?"
then I realized that I didn't know his needs either!
SO, thoroughly humbled and a lot slightly embarrassed at my behavior,
we had a talk.
A DTR if you will
(determine the relationship)
and things have been SOOO much better for both of us!
I mean seriously better,
we both made a promise to not be on our electronic devices as much,
to play with Rory together instead of "taking shifts",
taking time to actually TALK to each other again about our days
and find ways to make the other person laugh about the troubles ;)
We made a promise to start up scripture study again and to actually stick to it
(yeah yeah judge me if you want to,
but it's hard to do when you're exhausted by the end of the day)
and to start doing family prayers with Rory now too.
We figured she's never too young to learn to pray quietly
and we're going to try and start doing little family home evenings
(at least as much as we remember to do it right now).
*On a sidenote, as well as knowing Mickey, Aurora, and other Disney characters,
Rory can recognize all her family AND Jesus ;)
We must have taught her something right!*
We also decided that we're gonna try to make more time for each other too.
When Rory was first born,
we were doing fine finding time to spend together
and snuggle our brand new baby.
Well she's bigger now and more independent so we have to watch her
and so often we would get caught up in her needs/wants
that we both neglected the other without us even realizing it.
So that's gonna stop now.
Last night we went to the Suns vs Nuggets game
(Andrew's Christmas present from me)
and before the game we stopped at Target to get him some cough drops,
and I needed a different shirt cuz I spilled stuff all over it....
yeah I know, classy hahaha
so I got this cute yellow shirt,
we picked up some cookies for after the game
(mega stuffed Oreos for me and chewy Chips Ahoy for him)
and went to the game!
7th row seats baby! ;)
Sorry for the gigantic neck roll.....
working on that too haha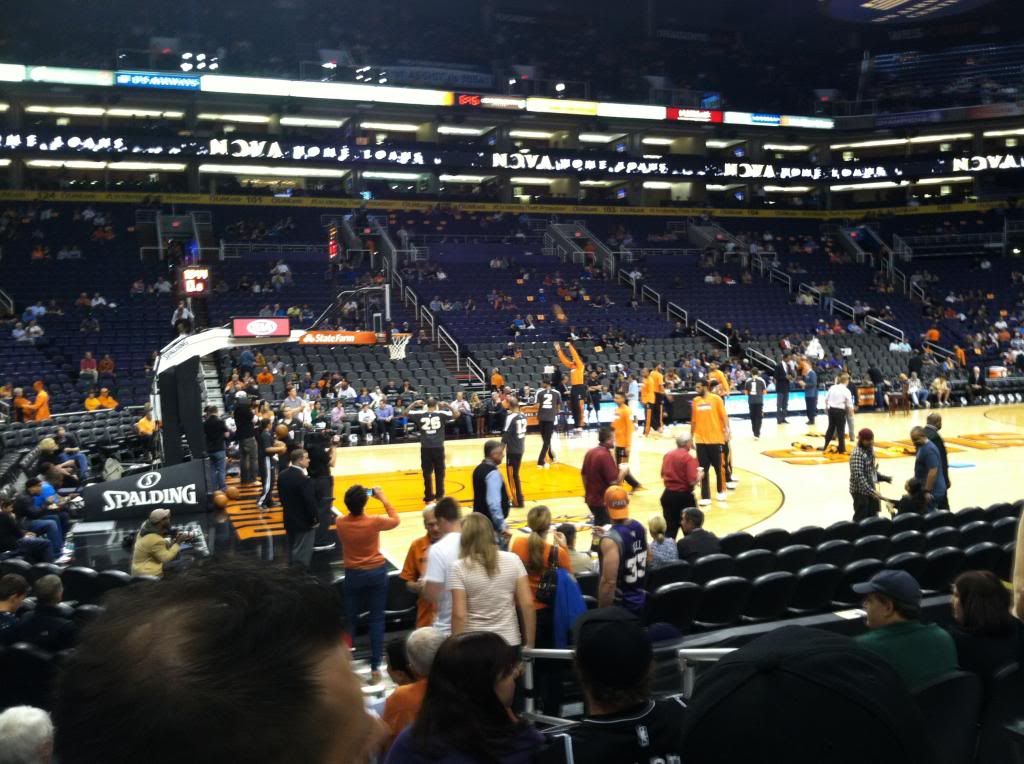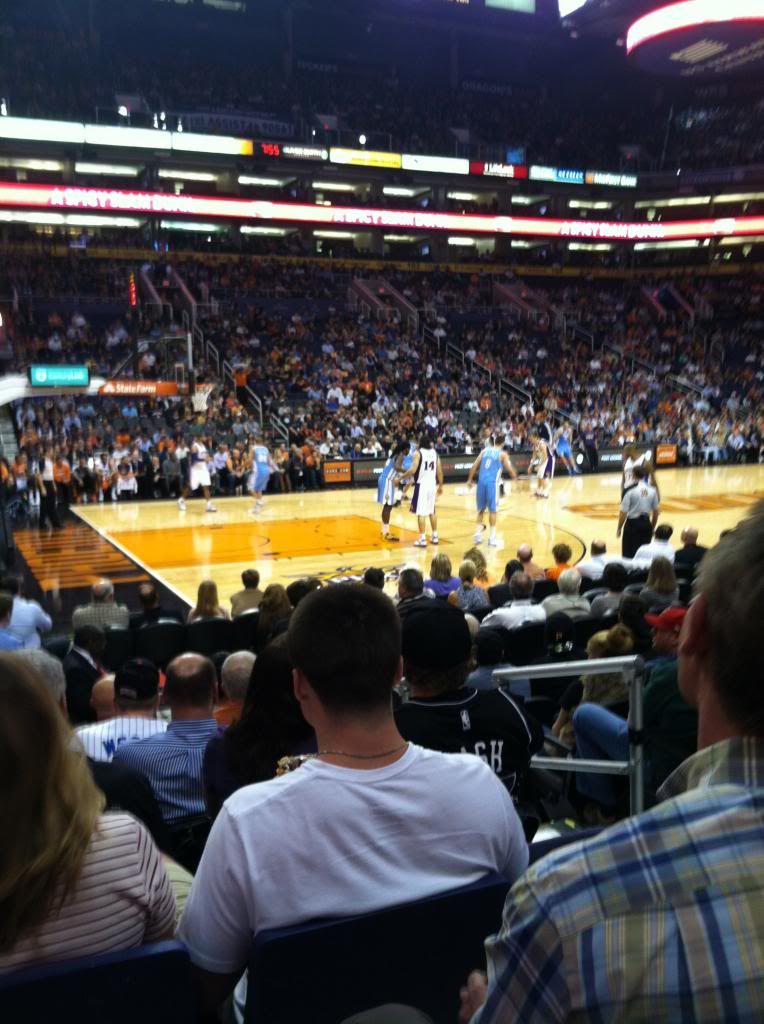 I want you to know,
those of you that don't know already,
that I pretty much don't like sports like at all........
football games, forget it.
So this was huge for us and I loved watching Andrew get all excited
when they were ahead at the first half,
then disappointed when they got slaughtered in the second half....
BUT he enjoyed himself and quite frankly that made me sooo happy!
All I wanted was for him to have fun
and we enjoyed ourselves ;)
It was a great start to our resolutions
and I can't wait to do more to help keep our love strong
(and our marriage too) ;)